Montjoye Saint Denis!
                                           Royaume de France
Edit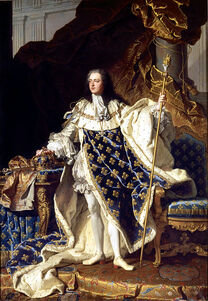 The Kingdom of France is an absolute Monarchy lead by King Louis XV. Currently, it is one of the largest empires in the world.
Territorys
Edit
France
Lorranie
Brittany
Burgundy
Aquitaine
Gascony
Normandy
Provence
Ile d'France
Picardy
Par de Calais
Acadia
New France
Upper Canada
Michigan Territory
Iroqouis Territory
Algonquin Territory
Newfoundland
Montagnias
Upper Louisiana
Lower Louisiana
Haiti
French Guyana
Windward Islands
Wayward Islands
Africa
Dakar

St. Louis de Afrique

Senegal

Grand Bassin
India
Pondicherry
Surat
Bantam
Masulipatam
Orissa & Circars
L'Armée Royale Française, or The French Royal Army is one of strongest fighting forces in the world. It has bases throughout the world and is ready to attack any of France's enemies.
                                                                      Chasseurs
Chasseurs or "Hunters" are elite units of light foot. Although armed with smoothbore muskets, they are still deadly accurate.
                                                              Infanterie de Ligne

Infanterie de Ligne or "Line Infantry" are groups of about 120 men armed with smoothbore muskets that fire in mass vollys in order to hit their target.
                                                             Grenadiers de la ligne
Grenadiers de la Ligne or "Grenadiers of the Line" or units of line infantry that use a mix of grenades and smoothbore muskets to destroy their targets.
                                                            Légion Polonaise